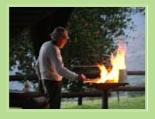 The tranquility and beauty of Trout Hideaway can best be savoured by spending a night or two. We offer five cozy, fully-equiped, self-catering log chalets, each with it's own unique view over nature's splendour.
Accommodation varies from two to eight bedded units and are serviced twice daily. Wood abounds to keep the log fire burning and a small convenience store provides that may have been forgotten.
Breakfast, lunch and dinner can be arranged, just give us a little notice. Our facilities are perfect to host small groups for conferences and seminars.
For tariff and reservation enquiries, please click Contact Us. We look forward to having you come to stay.
Choose a chalet for more information. . .