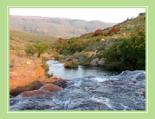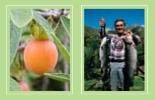 This resort has it's origins some twenty years back when Adolf Nicklaus came across this piece of paradise and realised his childhood dream of one day breading his very own trout, those that he fondly observed as a child in a nearby creek in Germany.
Taking cognizance of the natural environment, Adolf & his wife Isabel set about creating reality of their passion, that which is there now for all to enjoy and savour.
A little upstream, a pristine crystal-clear river has its source, which flows briskly down through breathtakingly beautiful mist-clad riverine gorges, cascading over waterfalls,
through numerous dams, weirs and ponds - a perfect environment for Brown, Rainbow and Golden Trout to flourish in abundance and for nature to continue its course unabated.
Exacting standards have ensured that the Trout Hideaway is one of the prime fly-fishing destinations in Southern Africa.